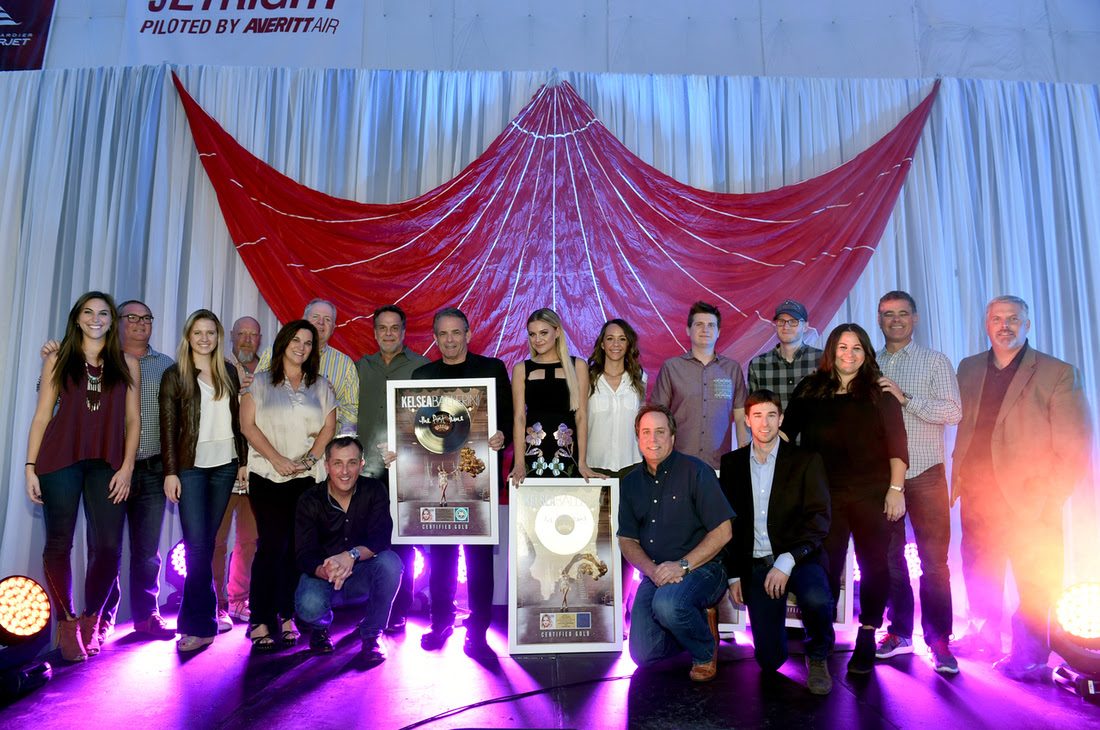 Black River Entertainment had a great reason to party!
1 year ago Liv Carter Comments Off

on Black River Entertainment had a great reason to party!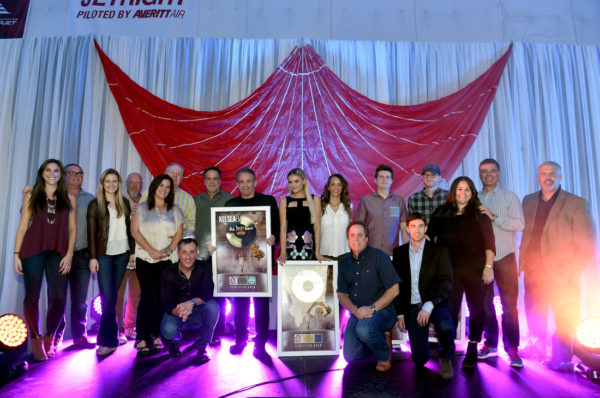 Over the past 2 years, Black River Entertainment has been giving a masterclass in artist development and career building. Their work with Kelsea Ballerini has got to be the envy of many other labels, and artist teams, and it looks like they're only just getting started. Kelsea and her team held a much deserved celebration for the success of her debut album, The First Time. The record is the first debut album by a female artist to be certified gold in two years, and the first three singles ended up at #1. That's a phenomenal achievement and the team deserves all the congratulations and awards that continue to flood their way!
Read the press statement below:
Black River Records celebrates a Gold album certification for THE FIRST TIME as Kelsea Ballerini's third consecutive #1 single "Peter Pan" is followed up by the flirty new single, "Yeah Boy," at country radio now. Nominated for New Artist of the Year and Female Vocalist of the Year in the 50th annual CMA Awards, Ballerini's THE FIRST TIME is the only female country debut album to be RIAA certified GOLD since 2014, with Kacey Musgraves' Same Trailer Different Park featuring the GRAMMY-winning single, "Merry Go 'Round."
"This is a great moment for Kelsea and the Black River team," said Black River EVP Rick Froio. "We would like to thank all of our physical and digital revenue partners. Bob Morelli, Alan Becker, and the Sony/ RED staff, thank you for believing in Kelsea from day one."
Co-produced by Forest Glen Whitehead and Jason Massey, THE FIRST TIME began breaking records with the now PLATINUM-certified debut single, "Love Me Like You Mean It" (Ballerini/Whitehead/Kerr/Carpenter). Topping both the Mediabase and Billboard Country Airplay Charts, the debut single earned her a spot alongside only 10 of country music's leading women including Faith Hill, Trisha Yearwood and Carrie Underwood who have achieved a #1 with their debut country single.
Additionally, Ballerini's #1 marked the first time a solo female had landed at #1 on the Billboard Country Airplay chart in nearly three years since Carrie Underwood's "Blown Away" on Nov. 3, 2012.
In February of 2016, Ballerini's second single "Dibs" (Ballerini/Kerr/Duke/Griffin) hit the top of the charts making her one of only five women – and the first one in 15 years – to achieve a second consecutive #1 single off of a debut.
It is with her third consecutive #1 single "Peter Pan" (Ballerini/Whitehead/Lee) that entered Ballerini's name in to the history books of country music, making her the first female artist – including duos or groups – to hit #1 on the Billboard Country Airplay chart with her first three singles. Simultaneously, the fantasy-themed tune rose to the top spot on Billboard's Hot Country Songs chart, also making Ballerini the first female artist to score a double #1.
Photo L-R: Black River's Gordon Kerr, Katie Barolak, Kelly Bolton, Celia Froehlig, Kelsea Ballerini, co-writer Jesse Lee, co-writer/producer Forest Glen Whitehead, co-producer Jason Massey, and Dave Pacula.
"I believe this "record breaking" album has enjoyed such great success because it was created with a lot of love, laughter, talent and, virtually no rules: reminiscent of a time when that was the way many of the records we all love were made," said Black River's Celia Froehlig. "Both Kelsea and Forest came to BRE at age 19. With the perfect combination of talent, work ethic, and positive attitude, after only a few short years, they began enjoying success, both together and independently. It is a privilege to be able to work with talent like Kelsea and Forest, they are still very early in their musical journey and I am certain we can look forward to them continuing to break new records and making music history!"
Songwriter/Producer Forest Glen Whitehead has been a "cornerstone" to the sound and success of Kelsea Ballerini and THE FIRST TIME. However, while they are elated with the success of the debut album, they are well in to the recording process of the follow up album coming in 2017.
"Kelsea's talent as a songwriter and artist are paralleled by few," said Whitehead. "I have no doubt success will continue to find her, she's a producer's dream to work with."
On Thursday, October 27th Forest Glen Whitehead is the featured guest on The Producer's Chair hosted by James Rae. Celebrating its 10th year running, Rae will interview Whitehead on stage and discuss THE FIRST TIME, his life as a songwriter/producer and perhaps even offer some insight as to what fans can expect from Kelsea Ballerini's upcoming album.
The Producer's Chair – Event Details
Location: Sound Stage Studios
10 Music Circle South
Schedule:
5:30pm Doors Open
6:15pm Doors Close
6:30pm Cameras Roll
Tickets: $10.00

Liv is a career coach for creatives, and the people who work with them.
She holds several certificates from Berklee College of Music, and a certificate in Positive Psychology from UC Berkeley.
Her main influences are coffee, cats, and Alexander Hamilton.

Latest posts by Liv Carter (see all)